Free Shipping with $50 purchase
Get free standard shipping to your front door or almost anywhere when you make a $50 minimum purchase. Get Full Details
Free standard shipping is limited to locations within the continental United States and Alaska. We do not currently ship to Hawaii, P.O. boxes, or international addresses.
Free standard shipping applies to purchases totaling $50 or more after promotions and discounts are applied.
Gift cards and taxes do not qualify toward the minimum purchase requirement.
For purchases under $50 a flat rate shipping fee of $9.95 applies, except for orders shipped to a dealership which is free.
Standard shipping to APO/FPO/DPO military addresses is always free, regardless of order amount.
FREE RETURNS
Orders of any amount can be returned for free by mail or in store, for any reason, within 45 days of the shipping date. Get Full Details
FINDING

THE RIGHT FIT
The relationship between the seat, the handlebar, the foot controls and
suspension have an enormous impact on
the comfort, control, and confidence you
feel when riding your motorcycle.
Explore the options below.
SEATS

>
HANDLEBARS

>
FOOT CONTROLS

>
SUSPENSION

>
Enjoy the

Ride
The right seat is equal parts ergonomics and comfort. Its shape anchors your position and determines the reach to the ground and to the controls, and the padding supports your tailbone and hips to relieve stress and pressure. Pick the right one for you — and your passenger.
LOW-PROFILE
REACH ®

TALLBOY ®

SUNDOWNER ™

HAMMOCK TOURING
Take the guess-work out and test ride a new seat at your local dealer.
BACK TO TOP
Handlebar

Position
When power is at your hands, you better feel comfortable turning it loose. That starts with the handlebars: finding the right fit for your hands, wrists, arms, shoulders, and back. Every rider needs a different combination and you can get the perfect fit by adjusting three simple aspects: width, rise and pullback.

Explore this interactive diagram for more details on these adjustments.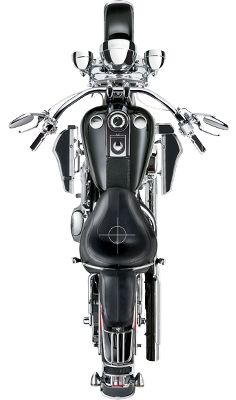 X
RISE

Vertical distance between the handlebar's tip and its base. Adding risers can help bring the controls up or down, to be more comfortably in reach.
BENEFIT
By relocating the bars closer to the rider, the motorcycle becomes much easier to steer and control. Risers provide immediate relief to those stretching to reach their handlebars.
X
WIDTH

Measured from the end of one hand grip to the other. Touring calls for a wider bar, while sport riding is best with lower end-to-end width.
BENEFIT
A reposition of the grip point reduces the stress most riders feel in their neck, back and shoulders.
X
PULLBACK

Paired with the right rise and width, the right pullback brings the bars closer to the rider.
BENEFIT
By relocating the bars closer to the rider, the motorcycle becomes much easier to steer and control. Risers provide immediate relief to those stretching to reach their handlebars. Adding pullback risers will bring the handlebars approximately 5" closer to the rider (compared to stock). Perfect for riders with shorter reach, or riders who prefer sitting a little straighter in the saddle.
Add Style Without Compromising Fit
Every person is unique. Your overall height, arm reach, upper body length and riding style all dictate your relationship to the bike's controls. Add in
the desire for a unique, custom look and your handlebar options multiply exponentially.*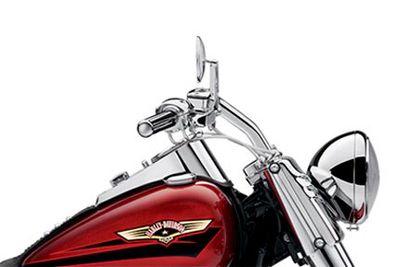 DRAG HANDLEBAR*
Narrow, flat and more aggressive, drag bars provide a straight elbow and neutral hand and wrist position. For maximum comfort, drag bars can be positioned with curved or straight risers to minimize stretch to the controls.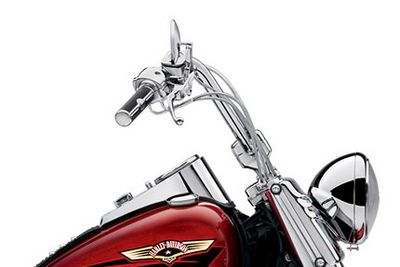 APE HANGER & TALLBOY ® HANDLEBAR*
Tall and wide, ape hanger and Tallboy ® handlebars provide a classic "fists-in-the-wind" look and can add long-haul comfort for riders with long arms. Because handlebar height is regulated in many areas, check local laws before installing a tall handlebar.
BEACH HANDLEBAR*
Ideal for the rider with long arms, a beach bar is low and wide to spread your arms and give you room to breathe. While selecting a bar, make sure you can reach the hand controls when the handlebar is fully turned.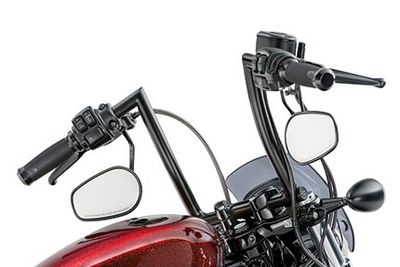 CHIZELED HANDLEBAR*
For cutting edge style, a Chizeled Bar combines the hands-up feel of a mini-ape with the narrow width of a drag bar. The bar's shoulder-width design keeps the elbows in and the arms straight ahead, and the wrist and hands fall in a neutral palms-down grip.
*NOTE: Installation of some handlebars and risers may require a change in clutch and/or throttle cable and brake lines for some models. Handlebar height is regulated in many locations. Check local laws to ensure your motorcycle meets applicable regulations.
BACK TO TOP
Foot
Controls
A long stretch to the controls or a knees-high cramped riding position puts strain on your body after even a short ride.

Repositioning your feet on the controls relieves muscle tension, takes pressure off the tail bone, and reduces rider fatigue. Where your feet contact the controls can often determine how many miles you can put on in a day.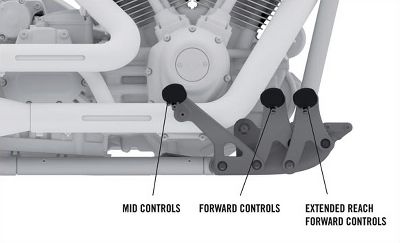 FOOT CONTROL POSITION COMPARISON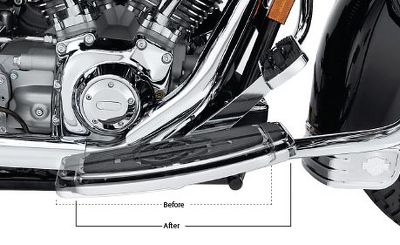 EXTENDED REACH RIDER FOOTBOARD PANS
Extending the rider footboard forward of the stock location by one
inch can provide the taller rider a comfortable riding position.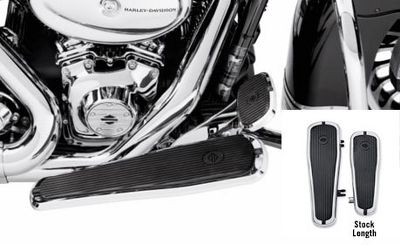 EXTENDED LENGTH RIDER FOOTBOARDS
When paired with Extended Reach Brake and Shift Levers, riders with large boot sizes have ample room to reposition their feet during a long ride. Stretching your legs and moving your feet during a long ride relieves muscle tension and reduces rider fatigue.
BACK TO TOP
Suspension
A lower center of mass will strengthen your command of the
road and being sure-footed at a stop or when parking the
bike can really increase your sense of confidence. Drop
your seat height and suspension for solid control when
starting and stopping.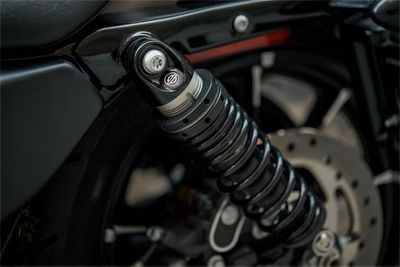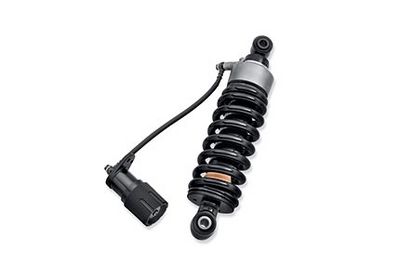 REAR SUSPENSION
Adjusting your rear suspension is a go-to strategy to instantly lower your ride height. With our lowering kits, you'll plant your heels with confidence and also get a deep-set custom look.
FRONT SUSPENSION
Feel the difference in the responsiveness of your front end, while keeping the ride quality of a standard suspension. Careful, slamming the front fork must only happen in tandem with a low-profile rear suspension.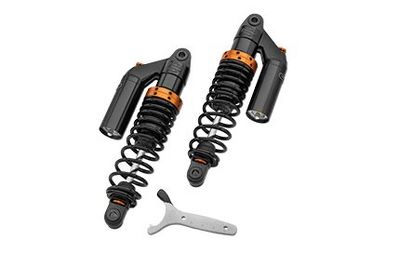 Screamin' Eagle ® Fully Adjustable Piggyback Shock
Whether you're fine-tuning for cargo and passengers or looking to carry more speed through the twisties, an upgraded Screamin' Eagle ® suspension allows you to get maximum comfort and handling out of your ride.
BACK TO TOP